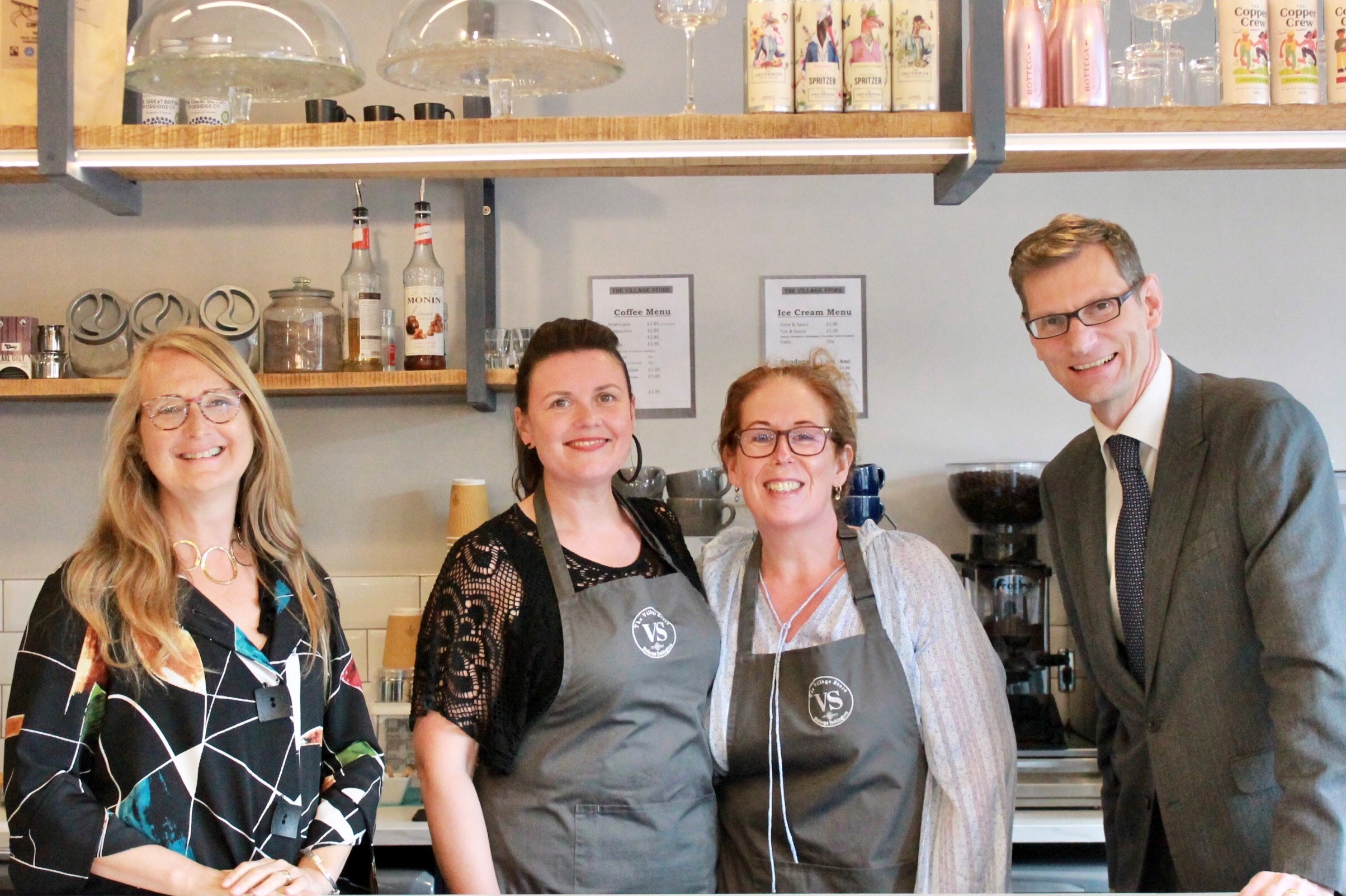 BTTJ helps The Village Store, Bishops Itchington to open its doors
27th June 2022
The Village Store in Bishops Itchington is a dream come true for proprietors Orlaith Horsman and Bee White.
A former newsagent, the shop has been trading in the village of Bishops Itchington for over 20 years however when local residents Orlaith and Bee purchased the freehold and took the reins last October, they wanted to develop its offering.
Following an extensive renovation, the shop which still operates as a newsagent delivering 400 papers a day, has increased its offering massively to include a deli, café and gift shop. It also has an alcohol licence and local artists even have the opportunity to display and sell their work.
Whilst both Orlaith and Bee have always been actively involved in the community, running a shop is a far cry from their existing careers. Orlaith has been a Social Worker for the last twenty-five years and Bee was a mother and baby foster carer with a history of working in sales and marketing.
So, getting the right advice for their new venture was absolutely vital. Not only were they purchasing both a property and business, they also were entering into a partnership each of which were individual transactions which had to be managed in tandem to ensure the process was seamless.
Alex Khan explained: "In the purchase of any business there are a number of different elements to consider and processes to conduct. These include due diligence of the current business, checking accounts and appropriate warranties and indemnities – a factor which is often overlooked. The preparation of the sales and partnership agreements is also key to ensure they included the necessary elements to protect both properties. Equally important was the property purchase to ensure the business could continue to trade as planned."
Knowing that BTTJ had recently moved to Southam, just 10 minutes from Bishops Itchington, and had a strong commercial expertise, they turned to us to assist them in ensuring the transaction ran smoothly.
Orlaith commented: "We knew we required a commercial service but also wanted to use a local firm, so they were close at hand and provided the personal touch. BTTJ fit the bill perfectly and the fact that they had the necessary commercial expertise and were on our doorstep made them an obvious choice.
"Both Senior Partner Samantha Wright, Partner Alex Khan and their respective teams supported us throughout the transaction, which had the added challenge of being conducted in lockdown. Nevertheless, we completed on time, and they provided us with the necessary advice throughout to ensure the acquisition process was seamless. We couldn't have asked for a better partner."
Orlaith and Bee are now looking to the future with plans in the pipeline to hold private events. Further job opportunities are also available for a variety of roles including one permanent, three-four casual staff and another delivery driver to support the business as it continues to grow.
Samantha Wright, Senior Partner of BTTJ & Commercial Solicitor stated: "It is so gratifying to see a business like The Village Store grow and prosper and we are delighted to have played a part in their success."
Orlaith continued: "We are delighted with the way The Village Store has taken shape. It is beginning to thrive and becoming a social hub within the community which was one of our primary objectives. We are still brimming with ideas and are just so grateful to BTTJ for providing us with the advice and support which has made this all possible."
Our expert Commercial Property & Corporate / Commercial team can assist with all aspects of Commercial work, contact us for more information