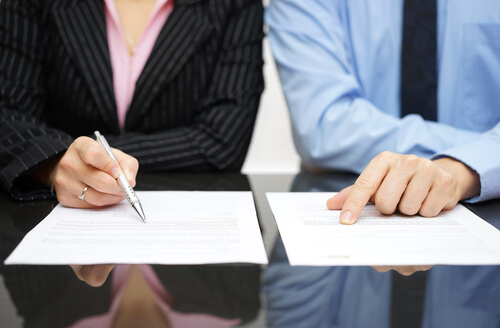 Legally required Terms Of Employment may not offer enough protection in cases of tribunal
23rd September 2021
"Businesses should as a matter of course always provide contracts of employment for all their employees."
Kerry Hudson, Employment Solicitor, issues the warning in light of the end of the government's furlough scheme this month.
With the scheme offering a lifeline to companies such as in leisure that have been forced to temporarily shut down in times of less demand, there is now a lot of uncertainty about what might happen in the future once it comes to an end.
Often in industries where there is a high turnover and employees are hired very quickly, it might be all too easy to overlook a contract of employment, and sometimes employers might think it's 'a bit much', but when things go wrong having a contract of employment goes a long way to resolving disputes.
From the first day of your employment employees are entitled to a written statement of employment which covers key elements of the agreement, such as pay, start date and hours of work.
However, a contract of employment provides that much needed security for both parties so neither party is left wondering what has been agreed or what they are entitled to, particularly if the employers has stated they are entitled to extra benefits over the statutory legal minimum.
Factories in particular are known for laying employees off to accommodate peaks and troughs, but furlough changed that as it brought about an alternative. However now it is due to end employers need to be more disciplined in their approach to avoid difficulties in the future if situations like the pandemic happened again and there was no furlough scheme so clauses such a lay off or short time working need to be covered
A contract of employment – particularly for people in industries such as those most hit by the pandemic – would clearly set out the employer's position and give both parties more clarity.
While a written statement of employment is a legal requirement, contracts of employment are not. But they could offer an added layer of protection should companies come up against legal action from a disgruntled employee.
In some circumstances an offer letter may appear to suffice, but I would always go one step further – particularly with the events of the past year and resulting changes in legislation.
A contract of employment goes into much more detail. Each party knows where they are and what is expected of them and with more and more people working flexible hours in the wake of the pandemic, a contract of employment gives employers the opportunity to outline such finer details – including the days an employee may be expected in work and the days they can work from home.
Also, don't forget the crucial importance of a restrictive covenant that can be added to an employment contract to protect your business and the more senior your employee, the more crucial it is to have a contract of employment.
An employer investing in a proper contract of employment will reap its rewards when you need it most. Employees expect Contracts, when they don't receive one it starts to raise concerns, so get it sorted from the outset.
For more advice on Employment Law both for employees & employers, contact our team of experts on 02476 531532