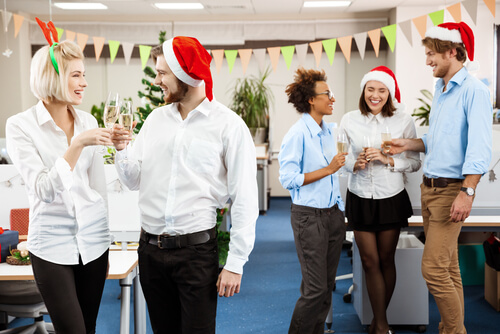 Staff Christmas Parties and Employment Claims
13th December 2017
Staff Christmas parties can be a great way to reward staff and boost morale but alcohol-induced behaviour can also land employers and employees in the Employment Tribunal.
What might appear to be an employee having a bit of fun or a risqué joke, after a drink or four, could, in fact, give rise to a claim for sexual harassment or other forms of discrimination.
Employers and employees would be wise to remember that staff parties are merely an extension of the office and if behaviour is discriminatory in the workplace, it is likely to be discriminatory at the staff party, regardless of the excuses.
Employers need to be mindful of this because employees' discriminatory acts are treated as having been carried out by the employer if they are done "in the course of employment".
Protection from discrimination is wide ranging and any unfavourable comments or acts connected to the following characteristics can be discriminatory: sex, race, age, disability, sexual orientation, religion or belief, pregnancy and maternity, marriage or civil partnership and gender re-assignment.
Employers should be able to successfully defend such actions if staff have acted contrary to the employer's instructions not to discriminate. A good way for employers to protect themselves is to have an Equal Opportunities policy and to ensure that all staff have been trained on it.
Where an employer has not already taken these steps, or even if it has done so, it should consider reminding staff what constitutes unacceptable behaviour and what the consequences could be if they indulge in it.
If the worse happens and allegations of discrimination or harassment are made, they should be fully investigated by employers and disciplinary action should be taken against the accused, if appropriate.
Employees who find themselves accused of harassment or discrimination should not consider that only their employer can be liable. If a member of staff decides to issue a claim for discrimination or harassment, the accused employee can also be included as a party in the Tribunal proceedings, along with the employer. In the event of a successful claim, this could result in an award of compensation being made against both the employer and the accused employee.
Enjoy the Staff Christmas party with caution!
Looking for advice?
Kerry Hudson is an employment solicitor at Brindley Twist Tafft & James in Coventry. She specialises in Employment Law and is a trusted advisor to both employers and employees. To seek advice from Kerry, you can email her at Kerry.Hudson@bttj.com or phone 024 7653 1532.