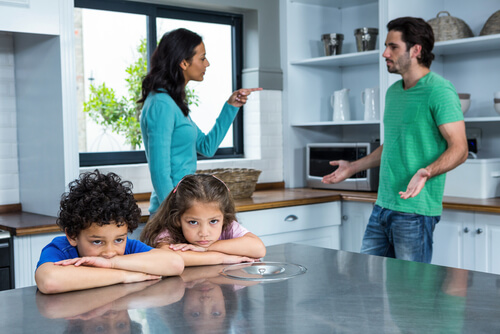 Parental Alienation
12th February 2019
Often when a child is caught in between their parents' acrimonious divorce or separation parental alienation may occur. This is when one parent deliberately turns a child against their ex-partner so that they eventually cut-off all contact with them and they state themselves that they do not want to have contact with the other parent.  This is known as trying to turn a child into a child soldier in a battle, as described by the Chief Executive of the Children and Family Court Advisory and Support Service (CAFCASS).
It is clear that this should not be happening, but usually parental alienation has been dismissed as a common product of bitterness about a failed relationship. But it is actually more than that and it is an intentional form of parental psychological abuse and undermines Universal Declaration Of Human Rights.  In Mexico and Brazil, it is even classed as a criminal offence, so it is good that CAFCASS are now starting to raise awareness about the emotional impact that parental alienation has on the child and they have started to make changes to ensure that parental alienation decreases.
These are complex cases which here at Brindleys we can deal with and unfortunately it is present in about 11%-15% of all UK divorces which makes up 10% of CAFCASS' private law caseload.  This affects around 6000 children a year, but the new strategy that CAFCASS have implemented will mean that the children can be taken away from the alienating parent and placed with the 'target parent' when social workers detect signs of manipulation and the focus will be on allowing the child to maintain a relationship with both parents.  If the alienating parent fails to improve their behaviour, then contact with the child will be restricted and in serious cases, refused.  CAFCASS have developed a 12 week programme called Positive Parenting to help the abusive parent put themselves in their child's position and change their behaviour.  Some cases involve psychologists and psychiatrists which are brought in to assist with this ground-breaking initiative.
It is clear that the Courts need to step up to these cases far more than they are doing.  These are very complex issues as many parents genuinely believe that they are improving their child's life by shutting out the other parent and in other cases, both parents feel as though they are victims of alienation, so it is good that things are moving forward, but if you feel that there is parental alienation in your family life, you need to make sure that you act fast.  Give us a call and we will happily talk you through your options to ensure that this is dealt with in the best way for the children.
If you need any help with any family issues, please contact our Family Law specialist Samantha Chater .  You can call Samantha on 024 7653 1532 or email her directly at samantha.chater@bttj.com.
Samantha has a wealth of family law experience and is an accredited member of  both Resolution and The Law Society Children Panel.